Master O Level English Exam Strategies That Matter
For Secondary 1 to 4 Students
It takes the right methods to ace English. We're here to teach you skills to get better English grades each step of the way.
Step 1
Sign up to a $20 trial class
Step 2
Attend weekly classes
Step 3
Get better English grades!
Do you want to do better in English but don't know where to begin?
We understand that mastering English can be frustrating. It seems like there is no formula or exact steps to take. Let us change that.
That's why our team is dedicated to supporting you every step of the way.
Our live, online classes are tailored to fully immerse you in the language, and our friendly teachers will provide constant practice and personalised feedback to help you succeed. You can also look forward to participating in activities that broaden your perspectives to appreciate this infinitely large world.
We believe that with our guidance and support, you'll find that learning English can be an enjoyable and fulfilling experience. Let us help you reach your full potential as the confident English student you've always wanted to be.
Founder & Head of Curriculum
Meet Esther, the visionary behind English Mastery. As a former MOE English and Literature teacher with over 7 years of curriculum design and 14 years of teaching experience, Esther hand-selected a team of qualified and competent English teachers to bring your English skills to the next level. With her passion for education and her commitment to excellence, you can trust that you will receive the personalised attention and support you need to thrive. Let Esther and the English Mastery team guide you on your journey to mastering the language.
English Mastery's Teachers
Discover the heart of English Mastery – our team of compassionate and dedicated teachers! Our hand-picked, highly qualified teachers go above and beyond to not only impart exam skills, but also inspire and broaden your perspective on the world. We believe that genuine care and personalised attention are key, which is why we've hand-picked a team who truly cares about your growth and success.
How will my child be supported through their path in learning English?
Your child will learn winning exam strategies for acing the English syllabus. With English Mastery, your child will:
Learn using syllabus and worksheets that are up-to-date with the latest MOE syllabus
Be graded with mark schemes used by Cambridge examiners
Practise frequently and meaningfully to build confidence and be fully prepared to ace the English exam
Learn using syllabus and worksheets that are up-to-date with the latest MOE syllabus
Be graded with mark schemes used by Cambridge examiners
Practise frequently and meaningfully to build confidence and be fully prepared to ace the English exam
Your child will learn from an encouraging, dedicated teacher who focuses on their progress.
Our small class sizes allow our teachers to give your child the attention and encouragement they need as they learn the English language. 
Prompt, quality feedback is given by our competent teachers so your child makes meaningful progress towards honing their strengths and weaknesses.
Personalised video feedback on every one of your child's essays will be recorded as a form of in-depth explanation.
Your child will get the learning support and quality feedback they need, all from the comfort of your own home.
Our classes are live, to help your child gain better focus towards their learning. This also allows your child to get immediate help and attention from our teachers!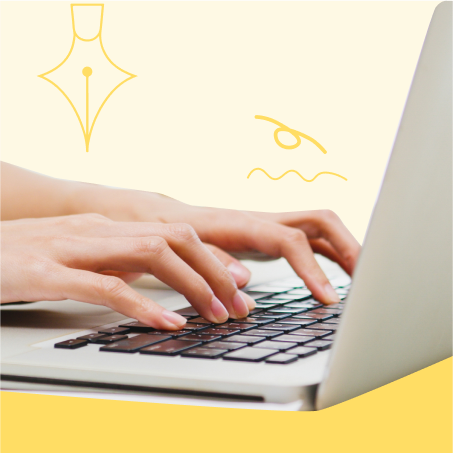 Interactive learning materials and activities keep your child interested in our classes, and stimulate their minds beyond the technicalities of the language.
Online classes save you and your child precious travel time. This way, they will learn in the comfort and safety of your home.
Ready to help your child reach English Mastery?
Are you curious to get to know our team of passionate teachers a little better?
Click on the link below to watch video introductions of each of us and learn more about our backgrounds, teaching philosophies, and why we're passionate about helping students succeed. Come say hi!
Step 1: Sign up for a $20 trial class
Send us a WhatsApp message to select a trial class timing.
Step 2: Enrol in our weekly classes
Think we are a good fit? Officially enroll in a class and start learning advanced English skills.
Step 3: Get better English grades!
Start gaining confidence in tackling different parts of the English paper and scoring better in English!
What parents and students say...
Certified Review
Big thank you to English Mastery to improve & deliver my daughter's o level English score well. Moreover, I was happy to see my daughter enjoy each lesson vs. just exam focused study. Steady yet significant improvement of her vocabulary, essay writing and comprehension was proved. Teachers are very professional, engaging and patient. They went extra miles to give personal revision/ coaching and to motivate students learning more than just English subject. Highly recommendable for those who aim to get distinction score and appreciate learning journey.
Certified Review
My English grades improved after attending lessons at English Mastery. The lessons are engaging and interesting. The wide range of vocabulary words taught has helped me improve a lot. My teacher is very encouraging and caring and I really enjoy the lessons! She gives me constructive feedback that has helped me improve and I really appreciate all the hard work she has put in.
English Mastery is a really helpful tuition centre as they provide customised feedback to every single student, and pushes you to become even better at the english language. They also target all aspects of O Level English subject, which is also very ideal.
Neo Jia Shuen, Secondary 3
Joining English Mastery is fun and effective for improving your English. They have many interesting methods on how to tackle your different weaknesses in English. The teachers there are also very considerate and patient when you need help.